Sync Your Outlook Email the Easy Way
First, don't try this with Outlook any version because we do not know if it will work. It works great for Outlook Express.
Outlook Express mail files are stored in individual files for each folder created in the program and the files have an extension of dbx. Thus, if you have a folder in outlook called "joe" you will see a file called joe.dbx among the many outlook express files in the mail folder.
Finding your default mail store folder can be a chore if you let it store at the default location. Outlook Express gives you the option to store your mail in its own folder. To take good advantage of this tip, you need to create a mail folder in your root directory.
First, open outlook express and go to "tools." On the "tools" menu open "options." In options, click on "maintenance." You are now in this screen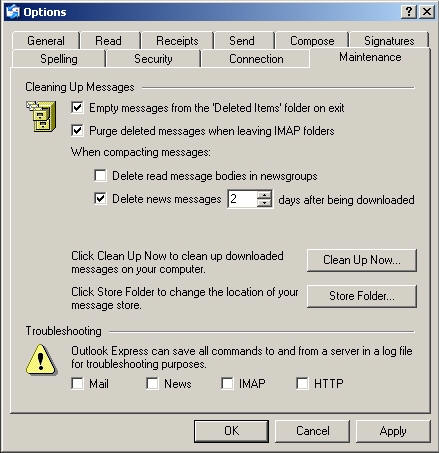 Open Store Folder and create a new folder called email or myemail or something you can easily remember and find in your root directory of C:\ drive. After you exit the program you mail will now be stored in this directory.
CAUTION: You will be given one of two options at this point. You can move your old email to this new folder or you can create a new folder with empty email inbox, outbox, sent items, and deleted items. BE SURE you select the option to move your old email to your new store folder or you will lose all your old mail!
Once you have completed these steps your mail will from now on be stored in this new folder. Assuming this is your work computer (we will call it computer #1) then you will next do the same thing on your home computer or laptop or whatever the case may be (computer #2).
Now that you have done these one-time preliminary steps, on both machines or as many as you plan to move mail about in, create a sub-folder under "Local Folders" in Outlook Express and call it "transfer" -- this folder will exit on all your machines.
Now you are set up. Assume you receive, answer and do email work at home. After you are done working, simply move all email messages received and sent to the transfer folder instead of folders where you would normally keep them (Obviously you can delete anything you don't want to keep). All these messages are now stored in an actual separate file in your email folder called "transfer.dbx". Now use your USB jump drive and go to "my computer" and open your email store folder you created on C:\ and copy the file "transfer.dbx" over to the jump drive. When you get to the office, or are on the other machine you want to update, simply copy the transfer.dbx file to that machine, open outlook express and move the email messages to permanent storage folders and you are done.
This only works if you have a transfer folder which creates a transfer.dbx file on both machines and overwrite them as you move stuff back and forth. You cannot simply move an outlook express file with a given name to another computer and expect to see it unless that other computer already has such a folder. And of course when you overwrite, the content of the prior file is gone. So only do this the way it is explained here to avoid losing any mail. Once you get in the habit of this you will find it very helpful and painless.